ECA offers a variety of enrichment activities for students, from after-school clubs to all-school events. We believe students need to develop not only academically, but physically, socially, emotionally, and spiritually as well.
Clubs
After-school clubs change quarterly and vary according to student interest and teacher availability. Students and teachers are welcome to make club suggestions. In the past, we have offered activities such as juggling, drama, volleyball, soccer, basketball, line dancing, strategy board games, debate club, and youth group.
During the 2020-2021 school year, we are  unable to offer clubs or small groups because of Covid-19 restrictions.  We will reinstate these fun activities as soon as we are able!
1st Quarter  ( examples of past clubs and small group activities )
LEGO
Swipe (card game)
ultimate frisbee
basketball
chess
small-group Bible studies
2nd Quarter
LEGO
chess
basketball
drama
small-group Bible studies
3rd Quarter
yearbook
SLC
basketball
drama
4th Quarter
LEGO
crafts
basketball
aquaponics
SLC
ultimate frisbee
small-group Bible studies
Music
ECA has a quality music program that offers a variety of opportunities for students to grow. Official classes include elementary music, middle-school choir or band, high-school choir, music theory, and musical theater.
Students can take private music lessons for an additional fee and have a chance to perform at school recitals at various times during the year. The elementary, middle-school, and high-school choirs also perform a Christmas concert and a spring concert for the parents and the community.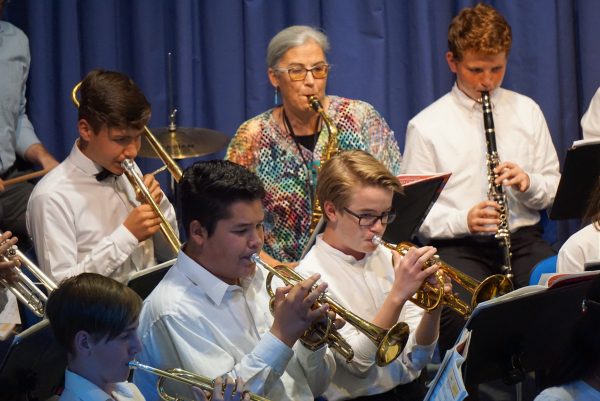 Trips
ECA offers many types of field trips, from day excursions to the zoo or a local olive-oil mill to week-long trips to other countries.
In middle school, students participate in an "outdoor education day" each fall and visit the zoo or other point of interest in the spring.
High-school students who attend leadership training in January are eligible to apply for the Student Leadership Conference in Budapest each year. Other trips have included language trips to France, honors choir trips to cities around Europe, and senior trips.
Spiritual growth
We seek to integrate a biblical worldview in all the classes we teach, and students at ECA also attend weekly chapels featuring a worship time, guest speakers, and small-group discussions. We also invite students to be part of one of the small-group Bible studies led by teachers on a weekly basis.